What Is P-AWS® and SH-AWD®?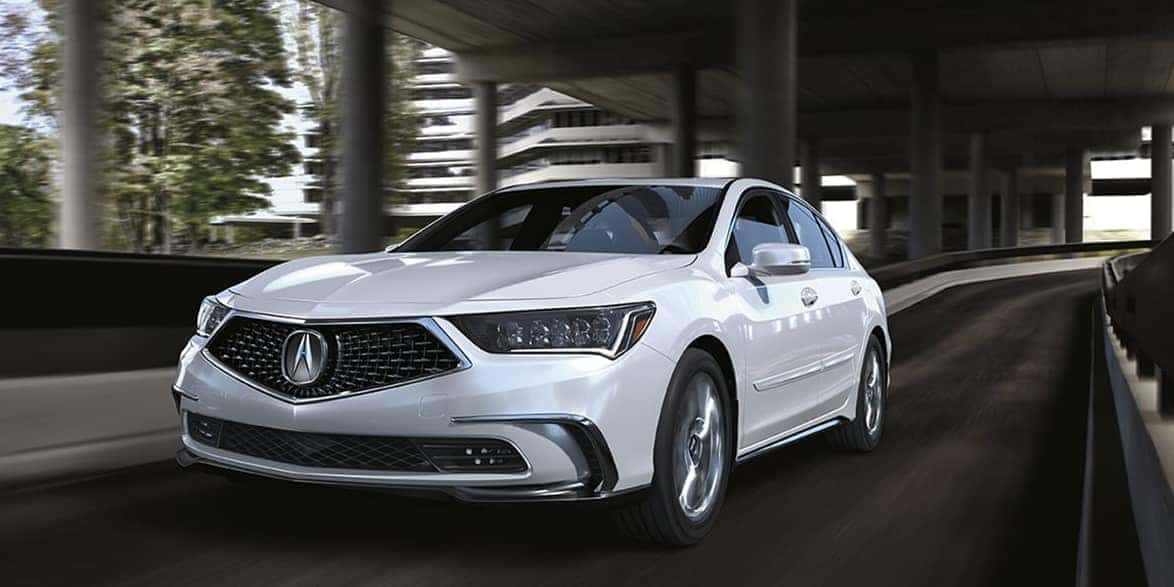 When you get behind the wheel of a new luxury model, you'll want plenty of seamless handling to keep you moving on Providence and Warwick roads and beyond. That's why many of Acura's top sedans and SUVs come with available Super Handling All-Wheel Drive (SH-AWD) to take your ride to the next level. See how much you can benefit from this unique Acura all-wheel-drive and other Acura systems with the help of the automotive experts at First Acura.
What is Acura P-AWS®?
So what does AWS stand for with this particular drivetrain? Acura P-AWS® stands for Precision All-Wheel Steer™, the first system of its kind that allows the rear wheels to adjust their toe angles independently of each other. As they adjust, you'll be able to maneuver tight turns, smoothly change lanes, and brake stably.
What is Acura SH-AWD®?
Acura Super-Handling All-Wheel™ drive automatically distributes torque to the wheels that need it most. This system is continuously active, helping you handle the terrain ahead no matter what. In fact, the Acura SH-AWD improves handling on dry roads and provides the all-weather advantages you expect from normal all-wheel drive. Your Acura SH-AWD system will also improve the overall performance in a number of additional ways as seen below:
Acura SH-AWD determines the optimal level of power distribution between the front and rear wheels individually based on wheel speed, steering angle, lateral G-force and yaw rate.
Acura SH-AWD improves fuel efficiency by sending 90% of the power to the front wheels when cruising in a straight line.
Acura SH-AWD transfers nearly 45% of engine power to the rear wheels and takes full advantage of additional, available traction.
Acura SH-AWD enables you to make turns easily as 70% of torque is applied to the rear or outside wheels and offsets some of the vehicle weight that has been shifted.
Acura SH-AWD offers more handling when turning as it reduces understeer and increases stability by revolving the outside rear wheel 2.7% faster than the other wheels to ensure they keep moving.
Available Acura AWD Vehicles
So, which Acura lineups feature SH-AWD? No matter if you prefer the look and feel of an Acura sedan, crossover, or SUV, you'll find this performance feature available in higher package options throughout the following Acura lineups:
Acura SH-AWD Acura MDX
Acura P-AWS
Find the Right Acura Package and Drivetrain at First Acura
Once you've compared the Acura SH-AWD vs. AWD vs. P-AWS options, you can get the right control and performance you need on Cranston roads and beyond. Take a look at our inventory of new and used Acura models to find the right luxury Acura all-wheel-drive option for your travels. Our finance team is here to answer your questions and get the car leasing or financing process started. Contact us today for more information and to schedule your test drive!
More from First Acura
Are you looking for an SUV with the spaciousness offered by a third row of seating, sophisticated amenities, and plenty of engine power, check out the 2020 Acura MDX trim levels with First Acura. This luxury third-row SUV offers something for everyone on the roads of Providence with a selection of Acura SUV trim levels…

Few luxury sedans truly earn their classification, and fewer still can offer plush interior, refined design, innovative technology, and superior performance at a low price. The 2020 Acura TLX cost reveals it is in a class of its own, and rave reviews around Providence and Warwick confirm its exceptional place at the front. View TLX…

When you get behind the wheel of a new luxury model, you'll want plenty of seamless handling to keep you moving on Providence and Warwick roads and beyond. That's why many of Acura's top sedans and SUVs come with available Super Handling All-Wheel Drive (SH-AWD) to take your ride to the next level. See how…